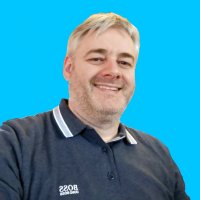 Dean Guild
A look back at yesterday
Initially I was going to do an in-depth match report, in thinking that I know have 9+ pages of notes.
If I had done this report it would have said we did OK until the 68th minute, then we were undone by a breakaway goal that the defence couldn't clear. But that would be me papering over the cracks.
In truth our deficiencies go back much further than that.
I have spoken before about our formation, whether it be 4-2-3-1 or as we played yesterday in a typical 4-4-2, our problems lie in having a very narrow back 4. Teams that play with real width will always hurt us. Typically, what happens is that the ball is played over or behind our full backs, then one of our Centre Halves has to come out and cover leaving a lot of space in the middle of our defence.
If we want to play a system that pushes our full backs forward, but leaves us with strength in defence and midfield, my preference with our squad would be to play a 3-5-2 system. This would allow us to get real width and give us a chance to win the important midfield battle and to control more games. It would also allow us to turn it into a 5-4-1 when in defence.
Too often we are undone by a single pass through our narrow defence, this was not only true for yesterdays match but has been evident throughout the season. It has been said many times, but the cornerstone of a good team is a good defence. This does not only apply to defenders but the team as a whole. Whether it be from corner or free kicks everyone should know their positions. Nearly every goal Goztepe scored yesterday came from one of our attacks.
Up until we scored our goal, there was a very disciplined two lines of 4 that were dealing with things in a pretty even game. Then some players started doing their own thing and leaving gaps which Goztepe could exploit.
Sadly, the tone for the second have started early, a slack pass from defence was picked up by Goztepe, a quick pass opened up the defence and luckily Goztepe didn't make the best of this gilt-edged chance. Not for the first time when looking at my notes for the second have it says, "defence at sixes & sevens struggling to clear the ball". In saying that we did create some good chances to take the lead in the second half.
But in saying that, it was our attacks that put us under the greatest pressure. Too often our attacks would peter out and we would be hit on the breakaway with our defence cruelly exposed. This was the story of both of Goztepe goals in the second half. Of course, injuries didn't help our cause in the 2nd half, but this cannot be used as an excuse, as we know in modern football it's a squad game.
Our new coach has much to work on and not much time to do it. We have vital matches coming up where we must take points. Firstly, we must tighten up in defence but also, we need to do a lot of work on our set plays which have been very weak this season. Thankfully our new will have a full week to work with our players, as already Saturdays match with Kayserispor is a must win game.
As always, our fans will travel and support our team as they always do. Always we travel with hope and belief. Ins Allah we will start our road to recovery in Kayseri.
#SizeInaniyoruz
Önceki ve Sonraki Yazılar